Blodssystrar "Blood Sisters" (feature film)
Sweden 2015, Malin Andersson, 83 min/60 min
Blood Sisters is a feature documentary film about the unconditional love and sister symbiosis between the twins Julia and Johanna from Malmö, Sweden.
A film about surviving the trauma of abuse together as twin sisters and how one day your other half might not be there to take for granted anymore.
The film is directed and produced by Malin Andersson Film.

Blodssystrar "Blood Sisters" (short film)
Sweden, 2010, Malin Andersson, 14 minutes
In the short film "Blood Sisters", we come close to the twin sisters Julia and Johanna and learn about their sisterhood and life story that holds memories of severe abuse. Above all they show how you can be strong and offer us hope and inspiration. The sisters decide to take back their power over their bodies with a tattoo, and they write their story, "You Follow Me, I Follow You."
Tríur Ban Óg
Irland, 2011, Malin Andersson 4x 30 minutes
Four-part observational documentary series (TG4/Northern Ireland Screen), about three Irish speaking girls in their late teens; Niamh from Belfast, Krystal from Gaoith Dhoire, co. Donegal and Roise from Belfast. Filmed and directed by Malin and co-produced together with Cormac ÓCuinn. Edited by French editor Mirjam Strugalla, assisted by Rosie Ní Dhomhnaill.
Belfast Girls
Sweden, 2006, Malin Andersson, 58 minutes
The Belfast Girls Mairéad Mc Ilkenny and Christine Savage live in the same city but at the same time worlds apart.
I their homecity Belfast, the so called 'peacewalls' that seperate people, stand high and tall and efficiently seperate and divide the citys' people, young and old, and are instrumental in maintaining polarisation.
Malin followed the teenage girls at a time in their lives when love made them both challenge the satus quo and be brave enough to cross the division and challenge the walls.
The 60 min documentary film from 2006 is Malin Andersson's debutfilm and was nominated for many awards, among others Prix Europa, Best Nordic Documentary and Tempo Documentary Award.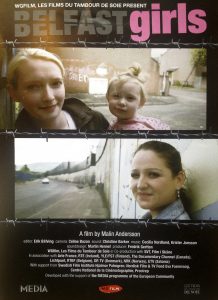 info >> WG FILM
'Banríon na bhFál'
'Queen of the Falls'
2017, Solas Productions/TG4/ Northern Ireland Screen
"Paul is a young gay man from West Belfast who spends his weekends working in the pubs and clubs of Belfast's city centre as a drag queen. Paul's father John is a dyed in the wool, old style republican who is struggling to come to terms with the new times and having a gay son not to mention having a son who is a drag queen. This documentary in Gaelic highlights the conflict and compromises between a father and son whilst both undertake their own personal journeys to find a deeper understanding of themselves and each other."